MS24566
Pulley, Control, Anti-Friction Bearing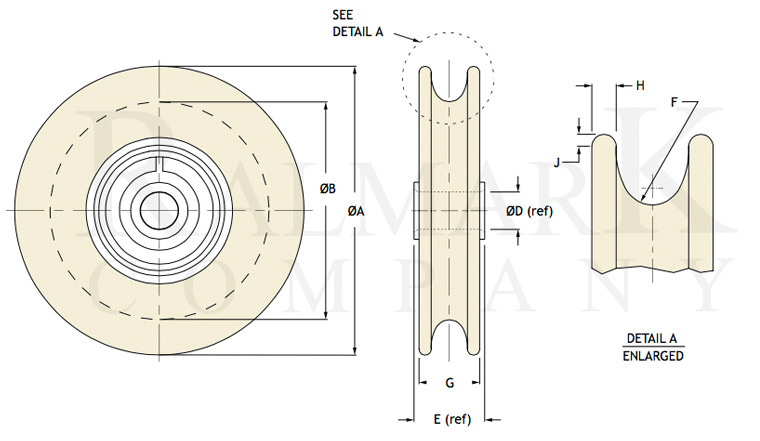 MS24566 Specifications Table
Part Number
Cable Size
(ref)
ØA
ØB
ØD
E
F
G
H
J
Pulley Assembly Max Weight (lbs)
Pulley Allowable Limit Load on Pulley
(lbs)
Bearing
Outside Diameter
+0.000
-0.010
Groove Diameter
+0.000
-0.010
Bore Diamter
(ref)
I.R. Width
(ref)
Groove Radius
Width at Flange Points
Flange Thickness
±0.005
SAE Specification Part Number
Bearing Part Number
MS24566-1B
1/16"
3/32"
1.250
0.972
0.1900
0.297
0.055
+0.000
-0.003
0.250
+0.000
-0.012
0.060


±0.005

0.040
0.026
300
MS21443-3A
KP3AK
MS24566-2B
2.500
2.222
0.075
500
MS21443-3B
KP3K
MS24566-3B
1/8"
5/32"
3/16"
2.000
1.510
0.2500
0.484
0.112
+0.000
-0.003
0.422
+0.000
-0.012
0.086


±0.006

0.086
0.090
600
MS21443-4C
KP4K
MS24566-4B
3.500
3.010
0.200
1,200
MS24566-5B
3/16"
7/32"
1/4"
5.000
4.374
0.375
0.620
0.145
+0.000
-0.005
0.507
+0.000
-0.014
0.092


±0.007

0.092
0.500
3,000
MS27640-6
KP6
MS24566-6B
6.000
5.374
0.660
4,000
Materials
Non-metallic sheaves are machined from an engineered phenolic laminate exceeding the requirements of MIL-I-24768/16.
Bearing
Conforming to the requirements of AS7949, and either AS21443 or AS27640.
Lubrication
Grease conforming to MIL-PRF-81322 or MIL-PRF-23827.
Note: Ralmark Company offers the Aluminum M-Series Pulleys with similar dimensional characteristics that are ideal for aircraft or industrial applications.