R30F
For OEM & MRO Procurement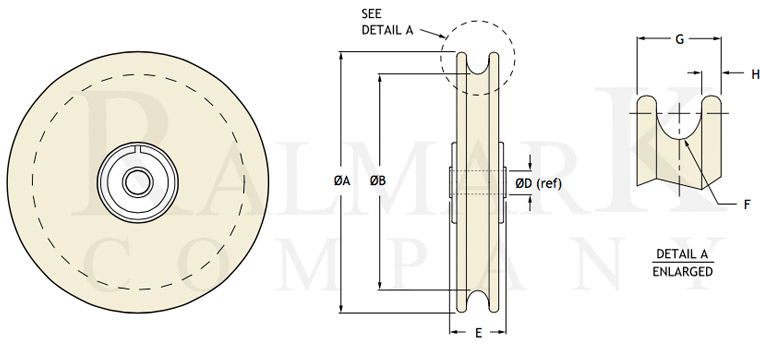 R30F Specifications Table
Ralmark Part Number
Cable Size Max
(ref)
ØA
ØB
ØD
E
F
G
H
Bearing Part Number
Outside
Diameter
+0.000
-0.010
Groove
Diameter
+0.000
-0.010
Bore Diameter
(ref)
I.R. Width
(ref)
Groove Radius
Width at Flange
Flange Thickness
Non-Metallic
FAA-PMA Approval
Metallic
FAA-PMA Approval
MIN
MAX
Non-
Metallic
Metallic
R30F-1
Yes
R30F-1A
Yes
3/32"
1.317
1.005
0.2500
0.438
0.047
0.050
0.310
+0.000
-0.035
0.310
+0.000
-0.030
0.060
MIN
W4AK
P4K
R30F-2
Yes
R30F-2A
Yes
1.755
1.443
0.2500
P4K
R30F-3
Pending
R30F-3A
Pending
1.755
1.443
0.6250
P10K
R30F-4
Yes
R30F-4A
Yes
2.630
2.317
0.2500
P4K
R30F-5
Yes
R30F-5A
Yes
2.630
2.317
0.6250
P10K
R30F-6
Yes
R30F-6A
Yes
3/16"
1.755
1.255
0.3125
0.625
0.094
0.097
0.405
+0.000
-0.017
0.422
+0.000
-0.027
P5K
R30F-7
Yes
R30F-7A
Pending
3.005
2.505
0.422
+0.000
-0.022
PD5K
R30F-8
Yes
R30F-8A
Yes
4.255
3.755
PD5K
R30F-9
Yes
R30F-9A
Pending
5.505
5.005
PD5K
R30F-10
Yes
R30F-10A
Pending
1/4"
2.630
2.005
0.125
0.130
0.507
+0.000
-0.017
0.507
+0.000
-0.030
PD5K
R30F-11
Pending
R30F-11A
Pending
4.130
3.505
0.5000
0.750
P8
R30F-12
Pending
R30F-12A
Pending
5.630
5.005
P8
R30F-13
Yes
R30F-13A
Yes
3/32"
1.250
0.972
0.1900
0.297
0.052
0.055
0.250
+0.000
-0.012
0.250
+0.000
-0.012
0.060
±0.006
KP3AK
R30F-14
Yes
R30F-14A
Pending
2.500
2.222
KP3K
R30F-15
Yes
R30F-15A
Yes
3/16"
2.000
1.510
0.2500
0.484
0.109
0.112
0.422
+0.000
-0.012
0.422
+0.000
-0.012
0.086
±0.006
KP4K
R30F-16
Pending
R30F-16A
Pending
3.500
3.010
KP4K
R30F-17
Pending
R30F-17A
Pending
1/4"
5.000
4.374
0.3750
0.620
0.140
.145
0.507
+0.000
-0.014
0.507
+0.000
-0.014
0.092
±0.007
KP6
R30F-18
Pending
R30F-18A
Yes
6.000
5.374
KP6
Notes
Dimensions are for size reference only. Contact Ralmark Company for more engineering detail. R30F pulleys are also available with stainless steel CRES bearings, and are designated with "C" suffix, e.g. R30F-13C. Please check our FAA-PMA page for a list of approved CRES bearing pulleys.
Materials
Non-metallic sheaves are machined from an engineered phenolic laminate exceeding the requirements of MIL-I-24768/16. Metallic sheaves are 2024-T351 aluminum alloy conforming to SAE AMS-QQ-A-225/6.
Ralmark Company is a Boeing approved OEM manufacturer for the BACP30F series of pulleys.

Ralmark Company holds FAA-PMA approval for Boeing BACP30F series pulleys. FAA/PMA designated pulleys are intended for MRO aftermarket procurement. The FAA-PMA designation is not applicable when procured for OEM or OEM new equipment sub-contractor requirements.