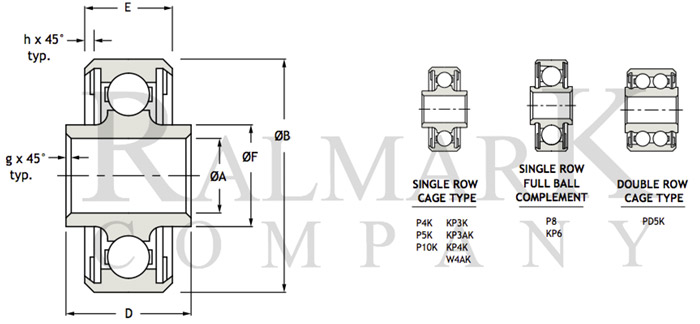 Bearing Data Specifications Table
Military Standard
Part #
Bearing Part Number
ØA
ØB
D
E
ØF
g
h
Radial Limit Load Rating
Thrust Limit Load Rating
Bore
Diameter
+0.0000
-0.0005
Outside Diameter
+0.0000
-0.0005
Inner Ring Width
+0.000
-0.005
Outer Ring Width
+0.000
-0.005
Inner Ring Shoulder Diameter
approx.
Inner Ring Chamfer
+0.015
-0.000
Outer Ring Chamfer
+0.015
-0.000
MS21443-3B
KP3K
0.1900
0.7774
0.297
0.270
0.332
0.005
0.024
1090
600
MS21443-3A
KP3AK
0.1900
0.6250
0.297
0.234
0.297
0.005
0.016
705
385
MS21443-4A
W4AK
0.2500
0.7500
0.438
0.312
0.372
0.005
0.016
1090
600
MS21443-4C
KP4K
0.2500
0.9014
0.484
0.335
0.390
0.005
0.034
1710
800
MS21443-4B
P4K
0.2500
0.8750
0.438
0.375
0.423
0.005
0.022
1710
800
MS21443-5A
P5K
0.3125
0.8750
0.625
0.375
0.455
0.005
0.022
1710
800
MS21443-5B
PD5K
0.3125
0.9375
0.625
0.563
0.490
0.005
0.022
3420
1030
MS21443-8
P8
0.5000
1.6875
0.750
0.563
0.768
0.005
0.032
11800
5200
MS21443-10
P10
0.6250
1.1875
0.438
0.375
0.769
0.005
0.022
2440
1100
MS27640-6
KP6
0.375
1.4375
0.620
0.469
0.591
0.015
0.032
7910
3500
Notes
Dimensions in inches unless otherwise specified. Stainless steel CRES bearings are also available for certain pulley applications. Please contact Ralmark for more information.
Lubrication
MIL-PRF-81322 or MIL-PRF-23827. All bearings shall be packed with grease conforming to MIL-PRF-81322 unless otherwise specified. If MIL-PRF-23827 is required, add the letter "G" after the MS21443 dash number. MIL-PRF-23827 shall not be used for operation exceeding 250°F. Additional lubrication can be made available.
Plating
Except for bore, all exposed surfaces are cadmium plated in accordance with latest specification requirements.
SAE Aerospace Standards (AS21443 and AS27640) adopted the original military standards and specification. Military Standard callout numbers have been retained for part identification.